2023 Schedule of Events*
Thursday September 14th – $10/Adults $5/Kids – Free Parking
---
7:00 AM — Media Flight: 5-10 Hot Air Balloons with local media to promote the event
3:00 PM — Gates Open: Stage begins, hay rides, bounce houses, kids tent, food and drinks, tethered rides WEATHER DEPENDANT***
3:00 PM — Main Stage: Sound Check
3:30 PM — Main Stage: Adriano
3:45 PM — Kids Stage: Falconeer Bid of Prey
5:00 PM — Kids Stage: Chris Fabiano Magician and Mystery Performer
5:00 PM — Mass Ascension Balloon Launch: Hot Air Balloons launch and fly away from the event field
5:45 PM — Kids Stage: SEW CLASSY
8:00 PM — Balloon Glow: Hot Air Balloons Return to the launch field and set up in the dark to "glow"
Friday September 15th – $20/Adults $10/Kids – Free Parking
---
7:00 AM — Mass Ascension Balloon Launch
3:00 PM — Gates open: Stage begin, hay rides, bounce houses, kids tent, food and drinks, tethered rides WEATHER DEPENDANT***
3:30 PM — Main Stage: Mystic Alpacas
3:45 PM — Kids Stage: Falconeer Bid of Prey
5:00 PM — Main Stage: Fast Lane
5:00 PM — Kids Stage: Chris Fabiano Magician and Mystery Performer
5:00 PM — Mass Ascension Balloon Launch: Hot Air Balloons launch and fly away from the event field
5:45 PM — Kids Stage: SEW CLASSY
8:00 PM — Balloon Glow: Hot Air Balloons Return to the launch field and setup in the dark to "glow"
Saturday September 16th – $35/Adults $17/Kids – Free Parking
---
7:00 AM — Mass Ascension Balloon Launch
12:00 PM — Gates open: Stage begins, hay rides, bounce houses, kids tent, food and drinks, tethered rides WEATHER DEPENDANT***
12:30 PM — Main Stage: Mystic Alpacas
12:30 PM — Kids Stage: Falconeer Bid of Prey
1:45 PM — Kids Stage: Chris Fabiano Magician and Mystery Performer
2:15 PM — Main Stage: Moe Blues
2:30 PM — Kids Stage: SEW CLASSY
3:45 PM — Kids Stage: Falconeer Bid of Prey
4:15 PM — Main Stage: Nervous Rex
5:00 PM — Kids Stage: Chris Fabiano Magician and Mystery Performer
5:00 PM — Mass Ascension Balloon Launch: Hot Air Balloons launch and fly away from the event field
5:45 PM — Kids Stage: SEW CLASSY
6:30 PM — Main Stage: Bobby Law and the Late Show
8:00 PM — Balloon Glow: Hot Air Balloons Return to the launch field and set up in the dark to "glow"
9:00 PM — Fireworks Show: Sit back and enjoy beautiful fireworks overhead to round out the night
Sunday September 17th – Community Day Free Admission – Free Parking
---
7:00 AM — Mass Ascension Balloon Launch
3:00 PM — Gates open: No Stage, NO bounce houses, NO Kids Tent, food and drinks available, tethered rides available WEATHER DEPENDANT***
5:00 PM — Mass Ascension Balloon Launch: Hot Air Balloons launch and fly away from the event field
7:00 PM — Event Closes
*Schedule of events is subject to change.
2023 Festival Map Coming Soon
Two Ways To Experience
From The Air | From the Ground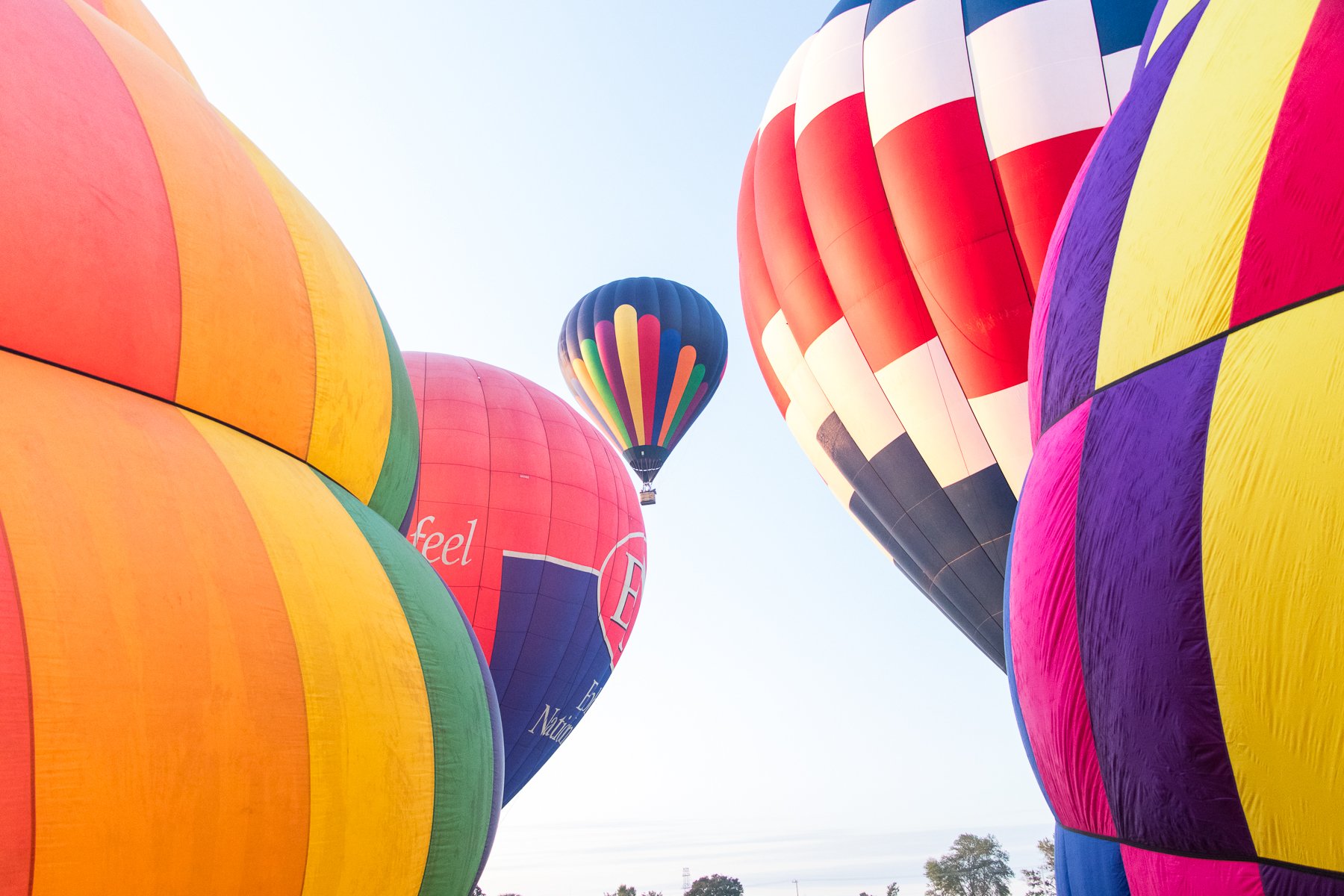 Fly on a Balloon
Book a ticket for a ride on one of the festival balloons and lift off with the dozens of balloons that will dot the Lancaster County horizon. Morning and evening flights available Friday-Sunday.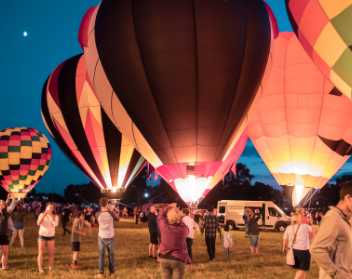 Fun on the Ground
Not flying in a balloon? No problem! With a general admission ticket you can watch the majestic scene of mass balloon launch and balloon glows while enjoying lots of food and entertainment.
Have questions? See our FAQs section >